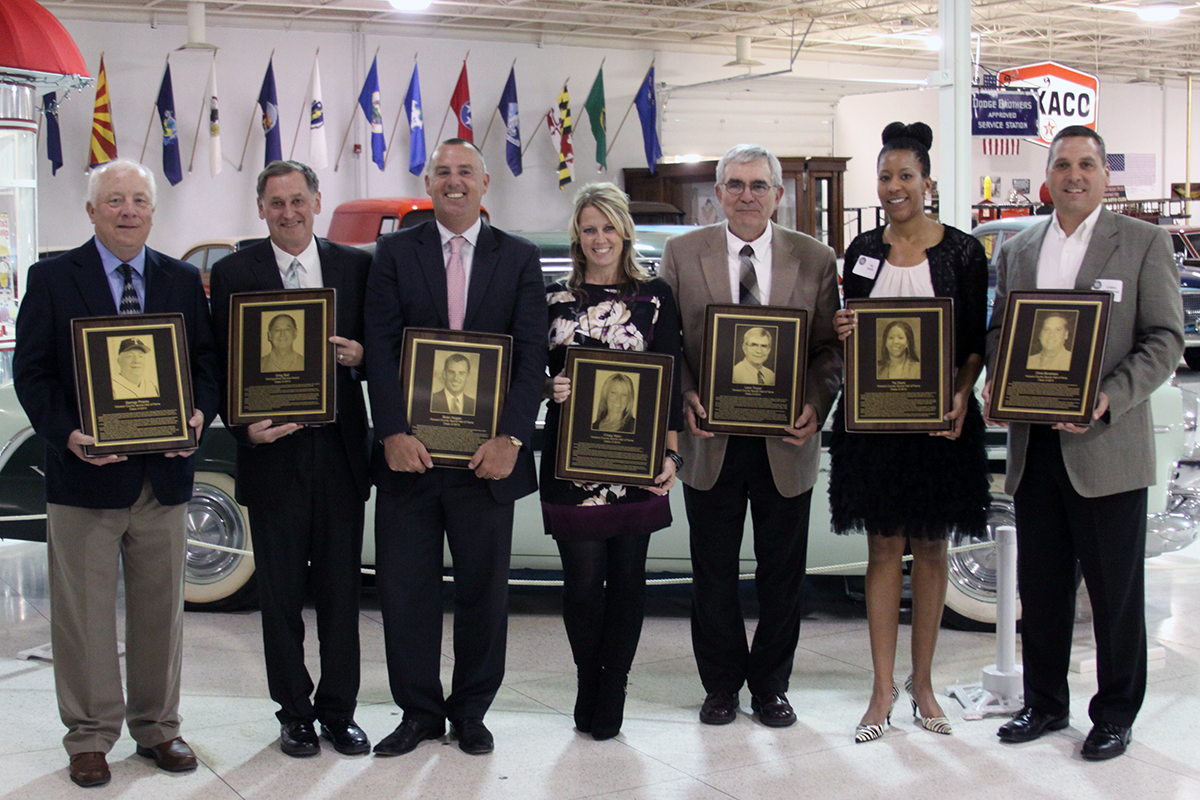 GREG BELL
Born and raised in Buffalo, N.Y., Greg Bell eventually made Kokomo his home and he treated local listeners to outstanding sports coverage for nearly three decades.
Bell planted his Midwest roots while attending Butler University. He later worked 35 years at three Indiana radio stations, but is best known for his 27-year run as sports director at WIOU-WZWZ in Kokomo.
Bell covered Kokomo High School football and basketball extensively and hosted Howard County and Tipton County coaches shows on Saturday mornings for WIOU. He called all three Kokomo girls basketball state championships, as well as state title games won by Kokomo and Taylor baseball squads and Northwestern's boys basketball team. Overall, Bell worked some 1,500 live football, basketball and baseball events involving Kokomo-area teams.
He was previously honored with distinguished service awards by the Indiana High School Athletic Association, the Indiana Athletic Directors Association and football, basketball and baseball organizations. He was also named Sportscaster of the Year by the Indiana Sports Writers and Sportscasters Association. His final honor locally came when he was named recipient of the Howard County Sports Hall of Fame's Distinguished Service Award. It is presented to a person who has contributed greatly to the betterment of sports in the county.
CHRIS BONEMAN

Chris Boneham was one of Howard County's most successful high school swimmers ever at Kokomo's Haworth High School before attaining All-Big Ten and All-American honors at Indiana University.
Boneham led the Huskies to the school's only team state championship in 1982. One year earlier, his efforts spearheaded the Huskies to a state runner-up finish. He was one of the rare Howard County athletes to capture as many as four IHSAA state titles, including two with state record performances. He claimed a pair of individual state championships, taking the 50-yard freestyle in 1982 and 1983 with dazzling performances. His winning times those two years were then among the top three ever recorded in the 50 freestyle that was first held in state meet competition in 1932.

He also picked up state titles as a member of the 200 yard medley relay in '81 and '82. The '81 foursome set a state meet record and the '82 team smashed that mark by nearly two seconds.
Boneham lettered at Indiana University for four seasons under legendary coach James "Doc" Counsilman. Two of those squads won Big Ten titles and another earned a runner-up finish. He was a two-time Big Ten champion, swimming on 400 freestyle relay teams that raced to conference titles in '85 and '86. He was a two-time All-American in the 1986 NCAA championships, finishing 12th in the 50 freestyle and 14th in the 400 freestyle relay.
TIA DAVIS
Tia Davis played four seasons at Kokomo High School, scoring 1,056 points for teams that compiled an 81-19 won-lost record, while capturing two outright North Central Conference championships, three sectional, three regional and one semi-state title. She ranks No. 2 for Kokomo all-time in total rebounds with 633. As a senior, she posted game averages of 15.2 points and 8 rebounds for the Kats (25-2).
Davis was a three-year starter at the University of Toledo where she scored 1,099 points. As a senior, she was named First-Team All-Mid-American Conference. That year she was third in league scoring at 18.1 ppg. and eighth in rebounding at 7.1, leading Toledo in both categories. She was listed among the top 15 players in seven MAC categories and was MVP on a team that finished with a 20-10 record, 12-4 in the MAC.
As junior, Davis scored 20 points in an upset of No. 5 ranked Duke. That season she averaged 11.2 ppg and 5 rpg. as the Rockets finished 17-11 overall and 12-4 in the MAC. As a sophomore, she started all 31 games, helping Toledo capture the MAC regular-season and tournament championships on their way to an NCAA Tournament bid. In 2012, she was inducted into the University of Toledo's Hall of Fame.
Davis played basketball internationally in Switzerland and Luxembourg. She later was a graduate assistant at Nebraska while completing her master's degree and also served as an assistant coach at Colorado State.
BRIAN HOGAN
Remembered as one of the great long distance shooters in Kokomo High School basketball history, Brian Hogan starred for Coach Basil Mawbey and was named to the Indiana All-Star team in 1988.
The 6-foot-2, guard played in 21 games as a sophomore before starting every game as a junior and senior. In his final season, he led the Kats (24-3) in scoring and had a career-high 32 points against North Central Conference rival Anderson on 14 of 19 shooting. Hogan shot 46 percent from the floor and 87 percent from the line.
Hogan lettered four seasons at the University of Florida, drawing 17 starts in his 122-game career, scoring 489 points and logging 1,520 minutes. He was the team's top 3-point percentage shooter in '89 when the Gators finished 21-13 and won the Southeastern Conference title and he repeated as the Gators' most accurate long- distance shooter in '90. He graduated from the program as Florida's all-time leader in 3-point baskets with 120.
Hogan's most memorable performance was as a senior in '92 when he matched his career-high of 18 points in an NIT game at Indianapolis' Market Square Arena as Florida beat Purdue 74-67. A week later in the NIT's Final Four at New York City's Madison Square Garden, he ended his career with an 11-point, 5 assist performance in an 81-78 loss to Utah. Hogan was Gators' team captain as a senior for Coach Lon Kruger's squad that finished 19-14 and was the SEC runner-up.
CRISSY KLEIN
Considered Howard County's most successful golfer ever, Crissy Klein enjoyed outstanding careers at Northwestern High School and the University of Notre Dame before earning her PGA Class A Professional status.
Klein played four seasons on the Tigers golf squad, twice leading her team to the IHSAA state finals and twice, qualifying as an individual.
She competed at Notre Dame four seasons and ranks No. 8 in the program's record book for the number of times (10) she registered the low score for the Irish while playing in invitationals. Her top effort came in 1992 when she was medalist in the eight team Bradley University Invitational. She also scored among the top 8 players at invitationals hosted by Michigan, Ohio State and Purdue (twice). As a senior, Klein was her team's co-captain and finished the season with the squad's No. 2 scoring average.
Following graduation, Klein pursued her dream of playing golf professionally and during a four-year stretch while on the Duramed Futures Tour, earned a berth in the 1995 U.S. Open. To qualify for the prestigious event, she shot a 3-under par 70 to win a qualifier at Nemacolin (Pa.) Country Club that drew 75 players.
In 1998 Klein went from player to teacher and in 2002 earned the elite status of a Class A PGA Professional. She has since worked at several Indianapolis area courses, specializing as an instructor of young players. Klein's best round ever came at Ballantyne Country Club in Charlotte, N.C. where she set the women's course record with a 7-under par 65.
GEORGE PHARES
Well-known and respected around the state as a teacher and coach, George Phares led Taylor High School's baseball team to the Class 2A state championship in 2000. In claiming the only IHSAA state title in school history, Phares' squad finished the season with a 30-4 won-lost record and dominated the state tournament, outscoring six opponents by a 52-8 margin.
A graduate of Shelbyville High School and Indiana State University, Phares coached baseball seven seasons at Morristown and 31 at Taylor where he compiled a 537-321 record. Over 38 seasons, his teams were 656-412.
While at Taylor beginning in 1977, Phares' squads won or shared 11 Mid-Indiana Conference titles and made two state final appearances. He had 14 players selected for the Indiana North-South All-Star Series, 25 named all-state and 40-plus who later played at the college level.
Phares was named to the Indiana High School Baseball Coaches Association Hall of Fame in 2004 and Taylor's baseball facility was named "Phares Field" in 2006. He will be remembered for more than his baseball success. He coached girls golf at Taylor for 24 seasons taking three squads to the IHSAA state finals - the top finish being third in 1993. Phares was also involved at various levels of boys and girls basketball for 25 seasons. He coached girls varsity basketball two seasons, compiling a 36-6 record that included two conference titles.
LEON TROYER
Leon Troyer is one of Eastern High School's outstanding three-sport athletes (11 letters in football, track and basketball). In track, he set a school record in the 100 dash at :10.2 and in basketball he was the team's starting center two years. His senior season, the Comets (17-4) won the conference championship.
Troyer is best remembered for his football talents with the Comets and later at Purdue University. He was the main cog on Eastern teams that set a state record winning streak of 37 games that began in the fall of 1961. Troyer did not start the season opener his freshman year which was a loss. However, he didn't miss a start or suffer a loss the rest of his 35-game career.
Over those four seasons, the Comets outscored the opposition 1270-180. Troyer was a two-time all-state selection. As a senior, over nine games, he rushed for 1,182 yards, averaging 9.5 yards per carry.
While at Purdue, Troyer played in 29 of 31 games for the '66, '67 and '68 squads, all of which finished their seasons ranked among the nation's Top 10. He was the backup fullback three seasons and active on special teams. During Troyer's career, Purdue was 25-6 overall, 17-4 in Big Ten play and co-champs in '67. Troyer played in the '67 Rose Bowl win (14-13) over USC before the largest crowd ever to watch Purdue – 101,455. A winner his entire career, Troyer's composite football won-lost record was 60-7.