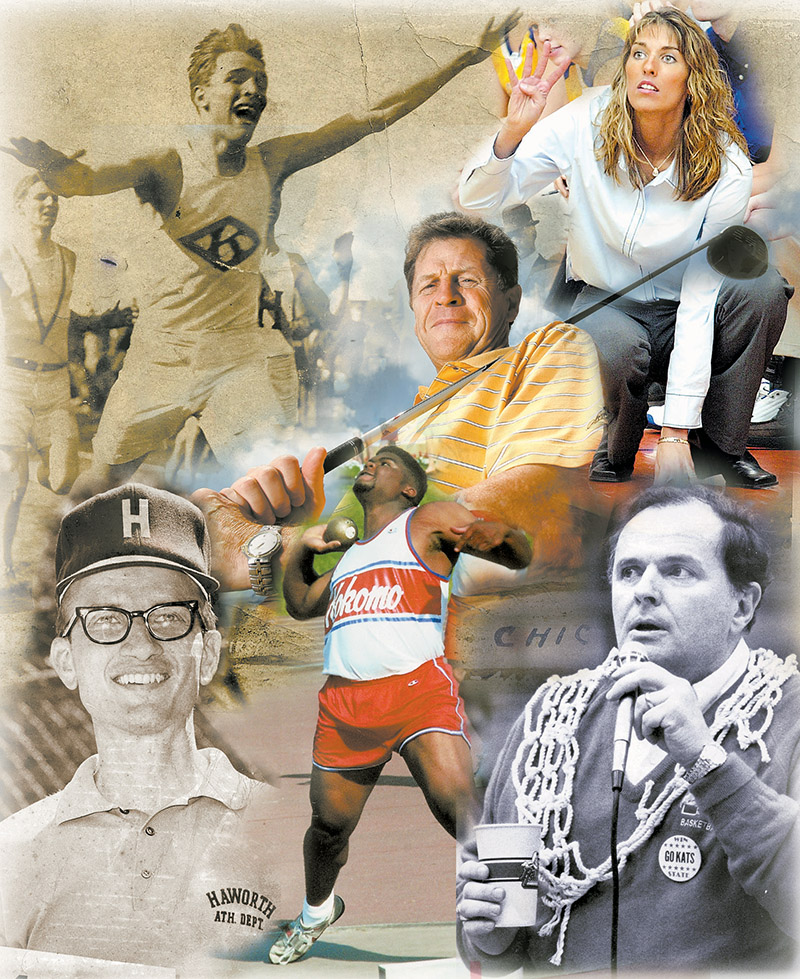 KATHIE (WISE) LAYDEN
A three-sport standout at Taylor High School, Layden played four years of basketball at the University of Evansville before making her mark as one of Indiana's most successful hoops coaches at Tri-Central High School.
Over her first 10 seasons at Tri-Central, she logged an impressive 156-82 record. During a three-year stretch from 2003-05, the Trojans amassed a 63-17 record and captured three IHSAA Class A state championships.
Layden was an outstanding athlete at Taylor, competing in volleyball, basketball and tennis, where she played No. 1 singles four seasons, finishing with a 67-11 career record.
The 6-foot-1 forward missed only one start in four seasons of basketball, leading the Titans to a 66-15 record. She closed her career with 1,007 points, the second-highest total in school history when she left the program.
Layden played 100 games over four seasons at Evansville. Upon her graduation, she ranked No. 5 in career steals (124) and No. 9 in assists (287).
The fifth grade teacher and her husband Jeff are the parents of daughters Madison and McKenna.
KEITH SLAUGHTER
This well-liked and respected baseball coach directed the Haworth High School baseball program for 11 seasons. It was what his teams accomplished during that relatively short stint that turned heads.
The Huskies assembled a 202-111 record from 1969 through 1979. As members of the Olympic Conference for eight of those seasons, Haworth won or finished runner-up six times. The city's southside school was particularly potent in the postseason, winning seven sectionals, four regionals and two semistates. Twice the Huskies were in the single class IHSAA state baseball championships and twice they lost semifinal games to Evansville Memorial — the latter game to a squad led by Don Mattingly, who later had an outstanding career with the New York Yankees.
Slaughter moved from Greentown to Kokomo before his senior year in 1953. A pitcher, Slaughter was a starter in 8 of 11 games that season, then while at Indiana Central (now the University of Indianapolis), he pitched out of the bullpen.
Slaughter, an inductee in the Indiana Baseball Hall of Fame, is a retired teacher living in Kokomo with his wife Bonnie. The couple has two sons and three grandchildren.
TIM MILLER
The name of lifelong Kokomo resident Tim Miller has been associated with golfing greatness in Indiana since the mid-1970s.
His eight Howard County championships are three more than any other golfer and he's claimed 14 Kokomo Country Club stroke play titles. The span of those 22 championships — 1973-2009 — shows his golfing excellence has endured for nearly four decades.
A member of three North Central Conference championship teams while at Kokomo High School, Miller won his first KCC title in 1973 and was soon on his way.
He's had a storybook career with a strong current chapter at the Senior level. Shooting 4-under-par for the tournament, Miller won the 2001 Indiana Golf Association Senior Open. Three times he's qualified for the prestigious USGA Senior Amateur. He was the 2008 Florida State Senior champion and in 2005, was Golfweek Magazine's National Player of the Year from a field of some 400-plus Seniors.
Miller shows no signs of slowing down. At age 62, Miller twice shot rounds bettering his age — a 59 and 60. Miller and his wife Janie, who have two grown sons, reside in Kokomo just a chip shot away from the KCC course.
BASIL MAWBEY
A proven winner at every stop along the route, Basil Mawbey is simply the most decorated high school basketball coach to have ever coached in Howard County.
Inducted into the Indiana Basketball Hall of Fame in 2002, Mawbey, with a career record of 645-246, stands No. 7 on the all-time victory list among Indiana boys basketball coaches.
Mawbey has coached 38 seasons at the varsity level but his involvement with basketball is actually 55 years when his time as a player and coach at the freshman and junior varsity levels are included.
Mawbey coached Connersville to a single-class IHSAA state championship in 1983 and also led Lewis Cass to an unbeaten season and the Class 2A state title in 2003.
Between those two stops, he coached 14 seasons at Kokomo, amassing a 248-80 record, twice taking the Kats to the Final Four in the single-class system. Mawbey also mentored four assistant coaches who continued on to lead basketball teams to state championships.
Mawbey also served as the varsity basketball coach at Broad Ripple High School and as an advisor to IUPUI before retiring. He and his wife Eileen, who have four children and 11 grandchildren, have homes in Rochester and Indianapolis.
BOBBY PETTIGREW
Only a handful of Howard County athletes have captured as many as two individual state championships and Bobby Pettigrew is a member of that elite group. Pettigrew won back-to-back state shot put titles at Kokomo High School. His first title, in 1994, was instrumental in the Wildkats winning their first IHSAA track and field championship in 57 years.
Pettigrew won his first IHSAA gold medal with a school-record toss of 62 feet, 2 1/4 inches. He followed that with his second state title, a throw of 63-6 1/4 that at that time was the third-longest winning mark ever in state meet competition that began in 1904. That effort remains a Kokomo-area all-time best.
Pettigrew excelled in football as well. Known for his versatility, he was a three-year, two-way starter, claiming MVP honors as a senior. A linebacker on defense, Pettigrew began his senior campaign as an offensive guard, but was moved to fullback where the 6-foot-1, 240 pounder was a lethal blocking back. He also rushed for eight TDs with an 8.1 yard per carry average.
A member of the Indiana Track and Cross Country Coaches Hall of Fame, Pettigrew works for Kokomo schools and is an assistant coach in the varsity football and track programs.
EMERSON APPLEGATE
Kokomo High School has a rich athletic tradition that includes 19 IHSAA state team championships and as many as 79 individual state title holders. That run of success started with the school's first state champion — Emerson Lowell Applegate.
In 1910 at the IHSAA State Track Meet, Applegate won a pair of titles, the 100-yard dash (10 3/5 seconds) and long jump (20 feet).
The following year, Applegate, who also excelled in football and basketball at KHS, owned the sprints as Kokomo won its first team state championship in any sport. He won the 100 yard dash (10 3/5 seconds), 220 (23 2/5) and 440 (54 3/5). To this day, no other male athlete has ever accomplished a state meet sweep in those events.
Applegate lettered three years in track and field at Purdue before graduating in 1915 and was later inducted into the Indiana Association of Track and Cross Country Coaches Hall of Fame.
He served in World War I and was commissioned a second lieutenant before his discharge. He was superintendent of the Youngstown Sheet and Tube Company of East Chicago, Ind. when he died in 1945. He is buried in a family plot at Kokomo's Crown Point Cemetery.