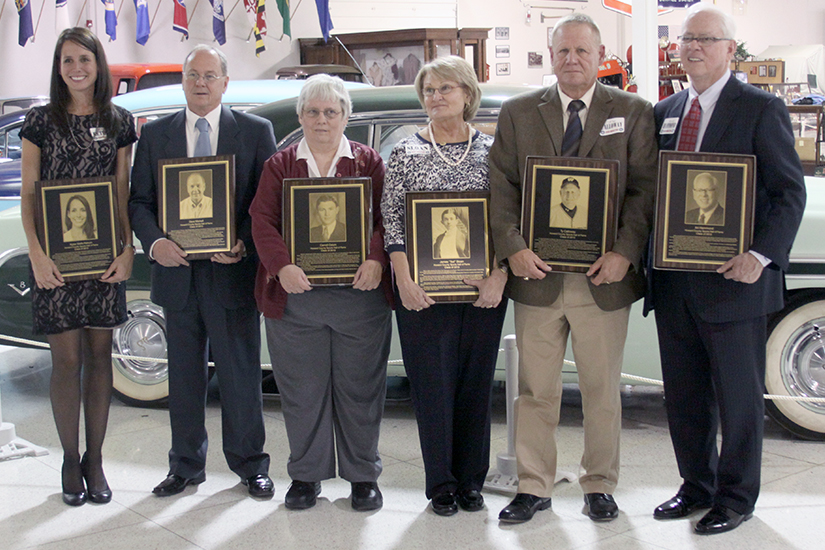 Pictured left to right: Kylee (Wells) Retrum, Dave Kitchell, Joanna Odom (for Carroll Odom), Victoria Wilson (for Tod Sloan), Ty Calloway and Art Hammond. Pat Kubly was unable to attend.
TY CALLOWAY
During his 36 years as Western High School's baseball coach, Ty Calloway built and maintained a rock-solid program, highlighted by his 2012 Panthers winning the IHSAA Class 3A state championship.
Calloway finished his career with a won-lost record of 663-310. His victory total is tops among all Howard County baseball coaches. He led squads to 18 20-plus win seasons, 17 Mid-Indiana Conference crowns and postseason titles that included 16 sectionals, six regionals, one semi-state and one state. He enjoyed success in both single and multi-class eras. The 1993 and '94 teams reached the semi-state finals in the single-class era. Calloway also coached 11 players who were named Indiana All-Stars.
In 2011, Calloway was the National Federation of State High School Associations Indiana Coach of the Year. In 2012, he was inducted into the Indiana High School Baseball Coaches Association Hall of Fame.
Calloway's ties with Western baseball run deeper than just his 36 years as its coach. The 1968 Western graduate played four seasons of varsity baseball and was a member of the Panthers' first Mid-Indiana Conference championship team. Following graduation from Ball State University, he served as an assistant baseball coach at Western for four seasons. Calloway also spent 19 seasons in the Panthers' boys basketball program, serving as a JV and varsity assistant coach.
ART HAMMOND
When considering the best all-around athlete ever at Eastern High School, Art Hammond's name surfaces quickly. The 1961 graduate first made a splash as a 13-year-old pitcher and was the team's most valuable player the following year.
He was the first athlete to be awarded the E blanket, which required 12 varsity letters. Hammond finished with 13 – four in baseball and three apiece in football, basketball and track.
In football, the Comets compiled 7-2 records during his junior and senior seasons. He was an outstanding fullback, earning all-state honorable mention as a junior in the single-class system.
In basketball, he was his team's MVP as a junior, scoring a career-high 34 points against Northwestern as an undersized 5-11 center. As a senior, he manned the pivot for a team that won its first 13 games and was ranked as high as No. 13 in the state. The Comets finished 16-5, losing to eventual state champ Kokomo in the sectional.
Hammond set the school record in shot put as a senior at the IHSAA regional. His toss of 50 feet, 10 1/4 inches stood for 51 years.
Hammond played football, track and baseball at Indiana Central College (now the University of Indianapolis). He had a four-touchdown performance against Franklin College his sophomore season, before suffering a career-ending shoulder injury.
DAVE KITCHELL
Born and raised in Kokomo, Dave Kitchell began working for the Kokomo Tribune during his high school years. He worked for a newspaper in Bloomington while a student at Indiana University, and later at Peru before returning to the Tribune in 1970 where he worked for 40 years. The last 30 years he served as the sports editor.
Kitchell won numerous awards during his career, including Indiana Sportswriter of the Year in 1992. He was honored with the IHSAA Distinguished Service Award in 1997 and the North Central Conference Distinguished Service Award in 2006. He was named Sports Columnist of the Year in 2001 and 2008 by the Hoosier State Press Association. In addition, he received honors for his columns from The Associated Press and Thomson Newspapers – the latter for a piece while covering the 1996 Atlanta Olympic Games.
Kitchell gained induction into the prestigious Indiana Sportswriters and Sportscasters Hall of Fame in 2008.
The Kokomo High School graduate wrestled for Hall of Fame coach Bob Hamilton for four seasons. He coached baseball, football and basketball youth sports teams and managed a baseball team in the Kokomo Parents Babe Ruth League for 10 seasons. In 1976, he managed a squad that won the league's first all-star state championship. Kitchell was also a member of the group responsible for bringing the 1985 American Legion Baseball World Series to Kokomo.
PAT KUBLY
Pat Kubly excelled in swimming at Kokomo High School under Hall of Fame coach Mal Cofield. Kubly captured four IHSAA individual state championships – the 200-yard individual medley in 1963 and '65 and the 100-yard backstroke in '65 and '66.
Kubly established the state record in the 200 IM as a freshman at 2:11.3 and two years later, smashed that mark by 3.5 seconds with another record-setting time of 2:07.8.
In 1965, Kubly broke another record in an event that had been first held in 1931. His time of 56.4 seconds in the backstroke bettered the previous mark by 2.7 seconds. His final state championship came one year later in the same event.
Kubly's record-setting performances in 1965 helped power Kokomo to a runner-up finish at the state meet. He was rewarded for his effort in the backstroke by being named to the 1965 National Interscholastic Swimming Coaches Association High School All-America Team. The four individual state championships rank as the second-most total ever by a Howard County swimmer.
He also enjoyed success swimming for the Sycamores of Indiana State University. He finished fourth in the 200-yard backstroke at the 1968 NCAA College Division Championships and he returned to the NCAA championship meet in 1969.
Kubly's most prestigious honor was being inducted into the Indiana Swimming and Diving Hall of Fame.
CARROLL ODOM
Kokomo claimed seven IHSAA state track and field championships over a 14 year period from 1924-37 and Carroll "Boots" Odom was one of the major contributors, despite turning just 17 years of age at graduation.
Odom was a forward on the Kokomo basketball team while also contributing mightily for three seasons of track and field. In 1927, Odom led the Kokomo to the state team track championship, scoring 12 of his team's 30 points. He won the 220-yard dash in :22.5, the third fastest time in meet history. He also took second in long jump and third in the 100-yard dash.
In 1928, Odom again excelled at the state finals, finishing as the top scoring athlete in the competition. He won the long jump with a leap of 21 feet, 8 3/4 inches and was a member of the victorious 880-yard relay team that finished with a time of 1:36.2. In addition, Odom finished second in the 100 and 220 dashes as Kokomo finished second to Gary Froebel in the final team standings.
A graduate of Purdue University's School of Agriculture, Odom earned letters in 1930 and 1931 running for the Boilermakers. He was a member of the school's freshman basketball and track teams, tying for first in the 100 dash at the Big Ten Conference freshman meet.
Odom, who died in 1975, is a member of the Indiana Association of Track and Cross Country Coaches Hall of Fame.
KYLEE (WELLS) RETRUM
With a strong gymnastics background in hand, Kylee (Wells) Retrum began diving in middle school. She participated in both sports for two years before opting to focus on diving – and she quickly rose to prominence. She was part of the USA Diving Regional Training Center at the IU Natatorium in Indianapolis, where she specialized on the 10-meter platform while also training on 1-meter and 3-meter springboards.
The IHSAA offers only 1-meter springboard competition and Retrum excelled in that event for Western High School. She reached the IHSAA state finals four straight years, improving with each appearance. She placed seventh as a freshman, third as a sophomore, and second as a junior before winning a state championship her senior season. She became just the second Western female to win an IHSAA state championship and first Howard County girl to capture a state diving title.
Retrum continued her career at the University of Tennessee where she became a Southeastern Conference champion and a two-time All-American by placing among the Top 16 finishers in the 2001 and 2003 NCAA Championships.
In 2001, she was the SEC's Freshman Diver of the Year. That same season, she qualified for the NCAA Championships and came away with All-American honors by finishing fifth in 10-meter platform. In 2003, Retrum was the SEC platform champion and an 11th-place finisher at the NCAA Championships.
JAMES "TOD" SLOAN
Born in 1874 in Bunker Hill, James "Tod" Sloan grew up in Kokomo. Sloan went on to enjoy great success in horse racing with his career taking him to tracks across the United States and Europe.
Sloan was posthumously inducted into the National Thoroughbred Racing Hall of Fame as a member of its charter class in 1955.
Sloan's start in horse racing came in 1886 at Latonia Race Track in Covington, Ky. At the age of 15, he registered his first win at Fair Grounds Race Course in New Orleans. He went to California in 1893, and then moved to the East Coast to race in New York a few years later. It was in New York that he found his greatest success. There he made a name for himself in racing circles around the nation by winning nearly 30 percent of his races in 1896, 37 percent in 1897 and a staggering 46 percent in 1898.
Sloan enjoyed success in England as well. He won several high-profile races, including the 1899 1,000 Guineas and the 1900 Ascot Gold Cup. Along the way, he helped popularize the forward seat style of racing, which the British called the "monkey crouch."
Success on the racetrack, combined with a flamboyant lifestyle, made Sloan one of the first international celebrities of the sport. His reputation was such that he was the "Yankee Doodle" of George M. Cohan's Broadway musical "Little Johnny Jones."
Sloan died in 1933 at age 59.