CLASS OF 2003 - THE ORIGINAL SIX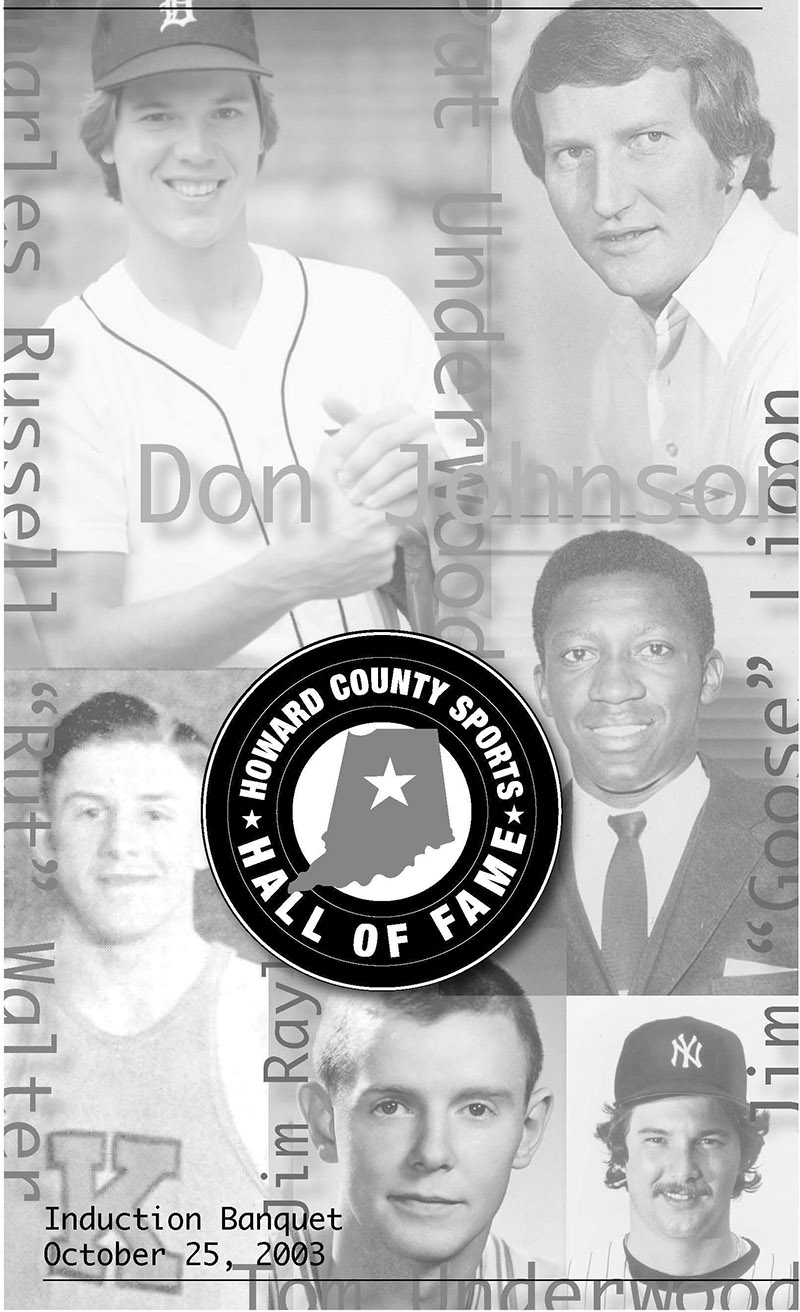 DON JOHNSON

When Johnson graduated from Sharpsville High School in 1958, he weighed 125 Pounds and would have been anyone's longshot for a spot in the Howard County Sports Hall of Fame. As it turns out, ours wasn't even his first such honor.

After taking a job as a pin-setter for Don Lowry at Play Bowl, Johnson began his trek to the top of the bowling world. Before his professional career ended, Johnson had become a 26-time Professional Bowlers Association champion, Bowler of the Year in 1971 and 1972 and a Hall of Fame inductee by the PBA (1977) and American Bowling Congress (1982). In 1999, Bowling Magazine picked him as eighth best bowler of the century.

After raising funds in the community, Johnson joined the tour on a part-time basis in 1962, went full-time in 1963 and a year later won his first event at Denver.

Known as the "Kokomo Kid" on the PBA Tour, Johnson was the top PBA money-winner from 1966-73; set the per-game average records of 212 in 1971 and 215 in 1972; made Chris Schenkel's Professional Bowlers Show 46 times and tossed 30 sanctioned 300
games.

Johnson moved to Las Vegas in 1974 as pro at Charleston Heights Bowl and opened a school where he taught for 20 years. He suffered a nerve injury in his hand in 1978 and never recovered to the point he could re-join the PBA Tour.

He died of a heart attack in Las Vegas May 3, 2003. His survivors include a sister, Pauline Dunlap, and children Amy Prazak, Scott Johnson and Jim Johnson, a current member of the PBA Tour.
JIM "GOOSE" LIGON
Kokomo basketball fans who thought they'd never see another scorer like Jim Rayl when he left for Indiana University in 1959 didn't have long to wait after all.

In the fall of that year Ligon showed up in Joe Platt's basketball camp as a promising sophomore. By the time he left in the spring of 1962, he had become the county's all-time leading career boys scorer with 1,900 points (a mark that still stands) and he'd led the Kats to the school's first and only boys state championship.
Ligon also gave fervent Kokomo fans something they'd never had before -- a 6-foot-8 center who could score, rebound and run the court every bit as fluently as his teammates. This was no ordinary basketball center, but rather one of the school's greatest athletes ever as fans would later see when he was named first-team all-state in football as a senior.

As a junior, Ligon teamed with Indiana All-Stars Ron Hughes and Richie Scott to help bring Kokomo its long-awaited state crown. Playing against an outstanding Indianapolis Manual team that featured future Indiana University and NBA stars Dick and Tom Van Arsdale, Kokomo won in overtime. Ligon fouled out with 19 points and 18 rebounds.

A year later, Ligon carried his team to the Final Four where the Kats fell 74-73 to East Chicago Washington in a game where he scored 25 points.

Ligon enjoyed an outstanding professional career with the Louisville Colonels of the American Basketball Association. He starred five seasons in Louisville and in 1969 was named to the ABA East All-Stars. Ligon later played for the Pittsburgh Condors and Virginia Squires before suffering a career-ending ruptured Achilles tendon.

"I played with the greatest players, Dr. J (Julius Erving), and Spencer Haywood," Ligon said in 1999 when the Tribune named him the fifth greatest Howard County athlete of all-time. "I played against Kareem Abdul-Jabbar and Rick Barry. I felt good that I was a great player and could hang in there with some of the greatest players of all time."
Goose Ligon passed away in Louisville on April 17, 2004, less than six months after being inducted into the charter class of the Howard County Sports Hall of Fame - something he called one of the greatest moments of his life.
JAMES "JIMMY" RAYL

Talk to basketball fans nationwide and they'll tell you Indiana is known for high school basketball and producing the game's best shooters. And the really knowledgeable fans will tell you that Jim Rayl was perhaps the greatest of those shooters.
Nicknamed the "Splendid Splinter" for his spindly frame, Rayl is likely Kokomo's most recognizable athlete statewide after starring at the high school, college and professional levels -- all with teams in Indiana.
Rayl led Coach Joe Platt's Kats to the 1959 state championship game where he was named winner of the Trester Award. Later that summer, he was named Mr. Basketball and Star of Stars for his outstanding play in the Indiana-Kentucky series.
He's largely remembered at Kokomo for three legendary performances. He scored a then school-record 49 points against New Castle on a night when the Trojans' Ray Pavy, later a friend and teammate at Indiana University, scored 51. He also led Kokomo's upset of No. 1 ranked Muncie Central by scoring 45 points, before popping for 40 points -- including the game winner from 25 feet at the buzzer -- in a 92-90 Kokomo win over Fort Wayne South in the Semistate at the Fort Wayne Coliseum.
At Indiana, Rayl was first-team All-American in 1962 and 1963, scoring 1,401 points. He still owns the IU single game scoring record of 56 points, accomplished twice, against Minnesota and Michigan State. He averaged 29.8 points as a junior and 25.3 as a senior after a run of 43 straight double-digit scoring performances.
Of course Rayl, known for his long-range artistry, scored those points well before the 3-point shot came into play.
Rayl continued his career with the Indiana Pacers, leading the team for two seasons in 3-point shooting percentage. He averaged 11.1 points per game for his ABA career.
Rayl is a member of the Indiana Basketball Hall of Fame. In 1999 he was named one of the Top 50 players in Indiana history and in 2001 he was named to Indiana University's All-Century Team.
Rayl and his wife Nancy live in Kokomo. They are the parents of four children, Tom, Jim Jr., Ginger and the late Tim Rayl.
PAT UNDERWOOD
Long before the time Pat Underwood had reached high school baseball, he knew he had giant-like shoes to fill. Brother Tom, four years older, had seen to that.
But Pat never blinked and in fact, engineered a high school career that in itself was impressive enough to have earned him a spot in the Howard County Sports Hall of Fame.
Twenty-seven years after his graduation from Kokomo High School, Pat still ranks among the top pitchers in IHSAA baseball history in eight major categories.
The lefthander ranks No. 1 all-time in career strikeouts (637) and career shutouts (22), and is listed among the top five pitchers in complete games (40), consecutive scoreless innings (75), innings pitched (338), career no-hitters (6), shutouts in a season (8) and career ERA (0.58).

Of course there was more to Pat than his high school and American Legion baseball exploits. Picked No. 2 in the first round of the 1976 amateur baseball draft by Detroit, Pat worked his way up to the parent club where on May 31, 1979, he made his Major League debut.

It wasn't just any debut either -- it was against brother Tom and the Toronto Blue Jays. Underwoods' friends and family prayed for a well-pitched game on both sides -- something that would provide a storybook finish. That's just what they got when Pat beat his brother Tom in a 1-0 classic. Pat worked 8 1/3 innings, yielding just three hits, fanning four and walking one. Tom went the distance, allowing six hits, fanning six and walking two. Jerry Morales' single swing -- a seventh-inning home run -- was the only difference in the two pitching performances.
Pat stayed with the Tigers until an arm injury ended his career in 1984. He lives in Kokomo and is a launch readiness coordinator at Delphi Delco Electronics Systems. He and his wife Debbie have two sons, Ryan and Evan.
TOM UNDERWOOD
In the eyes of many Howard County sports fans, Underwood was a lock for the Hall of Fame's charter class. It's easy to see why. Named the county's Greatest Athlete of the 20th Century by the Kokomo Tribune, Underwood enjoyed outstanding youth, prep and professional careers.
His amazing exploits carried him from UCT Little League through Kokomo Babe Ruth, Kokomo High School and the American Legion baseball program.
A three-sport athlete at Kokomo High School, Underwood was the school's first great pitcher. A lefthander with a nasty breaking ball and sneaky fastball, Underwood was 17-3 with a .040 ERA his final two seasons with the Kats. He was equally effective pitching his final two seasons for Kokomo's American Legion team, amassing a 25-1 record while leading Kokomo to the 1972 state championship.
Underwood was drafted 27th overall in the 1972 amateur baseball draft by Philadelphia and wasted little time getting the call. He made his Major League debut in 1974 on national television against Cincinnati's Big Red Machine; and while that night didn't go so well, Underwood had plenty that did in years to come.
He pitched 10 seasons in the Majors and despite laboring two seasons for expansion team Toronto where wins were scarce, he closed out his career with an 86-87 won-lost record. In those 10 seasons, he also pitched for St. Louis, the New York Yankees, Oakland and Baltimore, where Underwood operated as a starter and from the bullpen. His best seasons were 1976 in Philadelphia where he was 10-5 and in 1982 in Oakland where, while making 56 appearances, he posted a 10-6 record that included seven saves and a 3.29 ERA that ranked among the 10 lowest in the American League.
Underwood passed away on November 22, 2010, in Florida. He is survived by wife Chrissy and children Dani and J.D.
CHARLES RUSSELL "RUT" WALTER
No Howard County native has achieved so much as an athlete and coach as the often-decorated Walter, who died in 1997 at age 91. Many still consider him the greatest multi-sport athlete ever from this area and he's the only Kokomo native ever to coach an Olympic team.
The 1926 Kokomo High School graduate was first and foremost a genuine track and field star. He won seven IHSAA state track championships over three years. At his final state meet, having already won three titles, he won four more, setting records in the 220 and 440 dashes and tying the 100 record. He anchored the Kats' state championship half-mile relay and, in almost an afterthought, finished fifth in long jump. Walter's :21.6 clocking in the 220 dash at the state meet stands 78 years later as an all-time Kokomo best.
Walter's track career had only begun. At Northwestern University, he won the Big Ten 440 championship three times and over a three-year span at the NCAA Championships, placed third, second and first in the 440.
Walter then turned his talents to coaching. He was track coach at Northwestern from 1952-60, then took over the cross country and track programs at Wisconsin. While he was coach at Wisconsin, the Badgers won seven Big Ten championships and had 57 individual conference champs. His crowning achievement was coaching the men's track squad at the 1964 Olympic Games in Tokyo.
He was also an outstanding basketball player at Kokomo, leading the 1925 team to the state championship game. During the four-game state finals series, he scored a record 72 points and was the recipient of the Gimbel Prize, the forerunner of today's Trester Award. Walter also lettered in basketball three years at Northwestern and captained the team his senior year.
Walter is a member of the Indiana Basketball and Track halls of fame, the Wisconsin Hall of Fame and the Drake Relays Hall of Fame.