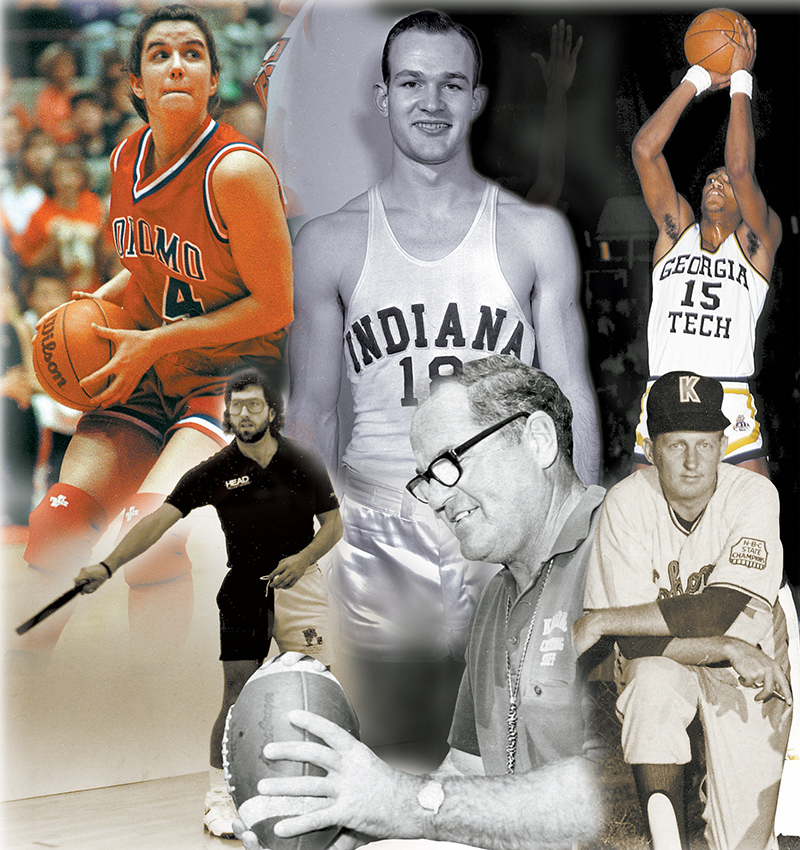 Bob Hamilton
Bob Hamilton not only coached a multitude of sports for four decades, he coached them at a championship level.
A Butler University graduate where he was the football team's MVP in 1940, Hamilton was best known as the colorful football coach at Kokomo High School. In 27 varsity seasons, his teams won six North Central Conference championships while compiling a 147-109-9 record. His 1957 team finished 9-0 and his mythical state champion 1964 squad, was 10-0.
Hamilton was Howard County's first high school wrestling coach, starting the sport at Kokomo in 1952. Over three decades, his wrestlers brought home two state team runners-up titles and 14 individual state championships.
Hamilton also directed tennis and golf programs, assisted in baseball and basketball and served as the school's athletic director for 12 years.
He died in 1994 after being inducted into the Indiana Football Coaches Association and Indiana Wrestling Coaches Association halls of fame.
Gene Conard
A contributor to the Howard County sports community for 40-plus years, Gene Conard is known as a successful baseball coach and award-winning journalist.
Conard managed the Kokomo Highlanders semi-pro baseball team from 1965-87 — never suffering a losing season while winning seven state championships. In 2007, he was inducted into the Indiana Semi-Pro Baseball Hall of Fame.
Conard has been a sportswriter for nearly 50 years, working for daily newspapers in Elwood, Kokomo, Frankfort, Crawfordsville, Noblesville and Tipton and for two weekly publications in Kokomo. While at the Kokomo Tribune, he covered a variety of major sporting events, including the 1967 World Series, the Pro Bowling Tour and the Indiana Pacers' run of ABA titles. His versatility showed when his piece on the death of Bobby Kennedy was judged Column of the Year.
The Elwood native has also been inducted into the Indiana High School Wrestling Coaches Hall of Fame and the Kokomo Bowling Association Hall of Fame.
Tony Gabriel
Considered Taylor High School's best all-around athlete ever, Tony Gabriel was a four-sport standout before becoming the state's finest racquetball player of his era.
Gabriel won 12 letters at Taylor in track, cross country, baseball and basketball and was an all-conference selection in three of those sports before graduating in 1972. The 5-foot-9, 145-pounder continued on to play baseball and basketball at Polk Community College in Florida and Sterling College in Kansas.
Gabriel began playing racquetball in 1978 and elevated his game to a level few reach. Over a 12-year span, he advanced to the Indiana State Racquetball Association's open class championship 11 times — winning state titles in 1982, 1988 and 1991. He also played on doubles teams that won four state open championships.
His greatest accomplishment came while twice winning the Open Midwest Regional, a tournament that drew champions from five states. He was inducted into the state association's Hall of Fame in 1996.
Tom Schwartz
One of the state's first true "big men," Tom Schwartz was a three-sport star at Kokomo High School who later excelled at football and basketball at Indiana University.
He was an all-state football player at KHS, but the 6-foot-5 Schwartz was best known for his basketball. He starred on the 1943-44 state runner-up team, then a year later led the Kats to a 22-4 record and second straight North Central Conference title.
That senior season, Schwartz won the NCC scoring championship and was the overwhelming choice state-wide to be named Kokomo's first Mr. Basketball.
Schwartz played end for IU's 1945 football squad that won the Big Ten championship with a 9-0-1 record, but the demands of basketball took him away from football. It paid off however, as Schwartz turned in three outstanding seasons as starting center. During that stretch, IU fashioned a 40-23 won-lost record. Schwartz was a ferocious rebounder and finished among the team's top five scorers each season.
He was inducted into the Indiana Basketball Hall of Fame in 1995 and died in 2004.
Tico Brown
Tico Brown enjoyed outstanding success in football, track and basketball at Kokomo High School, but it wasn't until after his graduation in 1975, that he really hit his stride.
After playing junior college basketball as a freshman, Brown moved on to Georgia Tech University where over three seasons, he averaged 16 points a game in leading the Yellow Jackets to a 50-31 record. Upon leaving Tech in 1979, he was the school's No. 5 all-time leading scorer with 1,308 points. Twice he was named all-Metro Conference.
Brown was the No. 23 overall pick in the 1979 NBA draft by the Utah Jazz, but eventually settled on a career in the Continental Basketball Association.
The 6-foot-5, 180-pounder played eight seasons in the CBA and stands as the league's all-time leading scorer with 8,538 points, a career average of 23.5 ppg. Brown set a CBA playoff game record of 60 points in 1983 and starred on Anchorage (1980) and Detroit (1983) teams that won CBA championships.
Debbie (Benziger) Dudukovich
A glance at Debbie (Benziger) Dudukovich's basketball career shows that everything she touched turned to gold.
While at Kokomo High School, Dudukovich started on state championship teams of 1992 and 1993 and starred on the 1994 squad (averaging 24.6 ppg.) that was state runner-up. In the four years the 5-foot-10 forward played in the program, the Kats amassed a 97-7 won-lost record.
Thirteen years after her graduation, she still owned 16 Kokomo career, season or single-game records and ranked No. 2 in 11 other categories. She graduated as Howard County's No. 2 career girls leading scorer (1,479 points) and was runner-up in voting for Miss Basketball.
While at Butler University, the Bulldogs posted their best-ever four-year record of 84-32. A three-year starter, she was the Midwestern Collegiate Conference Tournament MVP in 1996, leading the Bulldogs to their only NCAA Tournament appearance. She graduated in 1998 as Butler's No. 7 career-leading scorer with 1,214 points.