CLASS OF 2010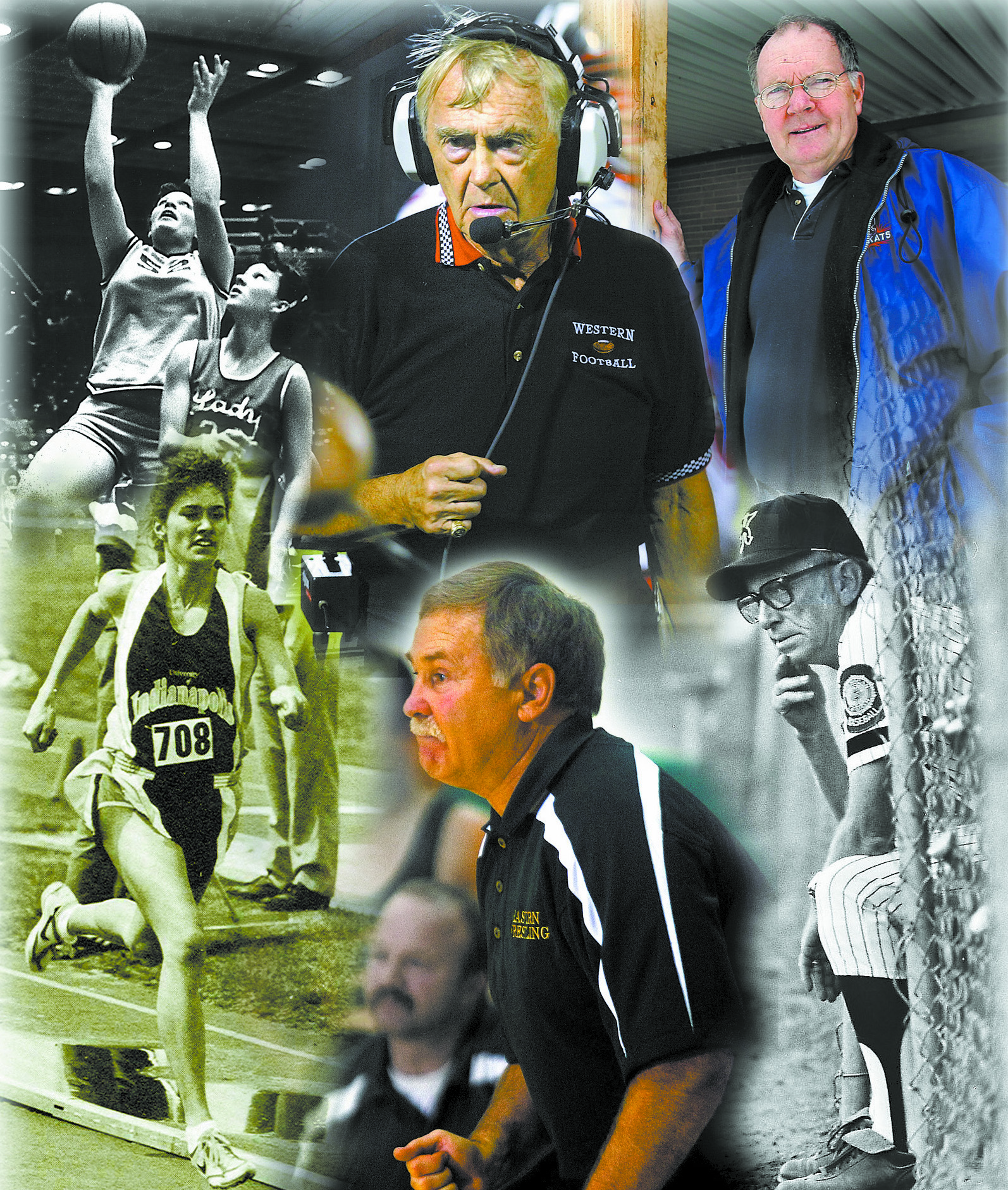 BOB CROLL
Bob Croll is best known for revitalizing a Kokomo High School boys swim program that had struggled during the 1970s after claiming IHSAA state meet runner-up honors in '65 and '68 and winning the title in '69. Croll's first team in '79 finished 2-11, but over the next 14 years, the Kats were victorious in 180 of 200 dual meets.
During that stretch, they won 13 straight IHSAA sectional titles and eight North Central Conference championships, while registering six unbeaten seasons. Ten times Kokomo was among the top-10 finishers at the state finals and Croll coached three individuals to state championships. He was the Indiana High School Swim Coaches Association coach of the year in '88 and runner-up in '82, '84 and '89.
The Gary native and Indiana State University graduate started the boys swimming program at Highland High School in '69 and after compiling a 103-33 won-lost mark, he moved on to Kokomo. His 25-year dual meet career record is an impressive 285-64.
Croll retired from Kokomo schools in 2010 after serving 42 years in education. He and his wife Cindy have two daughters, Denise and Carissa.
MICHELLE FAULKNER-NICHOLSON
Mchelle Faulkner-Nicholson mastered the 800-meter run and for eight years in high school and college, was rarely challenged.
Nicholson capped an outstanding cross country and track career at Western High School by winning the 800-meter title at the rain-soaked 1989 IHSAA state track finals in a time of 2:14.51. Nicholson also excelled at the AAU level, winning the national title at age 17 in Lawrence, Kan. and at age 18 in San Antonio, Texas.
At the University of Indianapolis, Nicholson lettered four seasons each in cross country and track, often turning heads with her performance in the 800. Her 2:10.27 clocking in 1993 remains the school record. She ended her college career later that year as a two-time Division II All-American, finishing eighth at the outdoor nationals (2:11.89) and second at the indoor nationals (2:11.73).
This marks Nicholson's third hall of fame induction. A physical therapist, she has previously been honored by the Indiana Track and Field Association and by the University of Indianapolis athletic department.
She and her husband Stu have two children, Nathan and Natalie.
ROBIN HENDRIX
A 1978 graduate of Kokomo's Haworth High School, Robin Hendrix was one of the pioneers of women's basketball in Howard County, scoring 986 points in just three varsity seasons.
A dominating post player, she began her college career at Truett-McConnell College, where she led the team to the National Junior College Athletic Association Tournament championship in 1980, earning MVP and first team All-American honors. The school retired her No. 52 jersey in 2005.
Hendrix continued on to play two seasons at Middle Tennessee State University, where she was named first team All-Ohio Valley Conference in '81 after averaging 19.7 points and 15.4 rebounds. She still owns the OVC's career record for average rebounds per game at 13.8 and her impressive single game mark of 27 rebounds against Tennessee State remains untouched. She averaged 17.7 points during her career, a total that ranks fifth best ever at Middle Tennessee State.
s first player to compete as a professional in Europe and later returned to Kokomo to embark on a career as a firefighter. Hendrix has two daughters, Mica and DeUnna.
BOB JARRETT
Western High School's most successful coach in any sport directed the Panthers highly-acclaimed wrestling program for 22 years, sandwiched around two seasons at Clinton Central.
In total, Bob Jarrett coached the sport from 1970-1993, then came out of retirement and led Eastern High School to the 2009-10 IHSAA sectional crown.
At Western, Jarrett's teams won 17 Mid-Indiana Conference championships, 13 sectionals, six regionals and one semistate. He sent wrestlers to the state finals for 54 appearances where three athletes claimed state titles. Jarrett was elected to the Indiana High School Wrestling Hall of Fame in 1993.
A 1965 Western graduate, Jarrett lettered four seasons in football as a linebacker and tailback and was all-conference three times. He also lettered in basketball two seasons – just prior to wrestling becoming a varsity sports at Western.
A Ball State graduate in his 39th year in the education profession, Jarrett is the assistant director at Kokomo High School's Career Center and continues to coach wrestling at Eastern.
He and his wife Rebecca have three children, George Robert III, Lauren and Kim.
JIM PLUMMER
When it comes to Howard County football, Western High School's Jim Plummer stands atop the list. He coached longer (35 seasons) and won more games (220) than anyone.
Plummer graduated from Brazil High School in 1956 where he was a three-year letterman in track and football. He continued his athletic career at Franklin College where he also lettered three years as a cornerback in football and as a half-mile runner in track. After graduation, he coached two years of freshman football at Center Grove, then served five seasons on the varsity staff at Decatur Central.
His first varsity coaching stint came in '68 at Hamilton Heights and after two seasons there (14-6), he began his 35-year run at Western. Plummer guided the Panthers to a 220-135 record that included 17 conference championships and unbeaten regular seasons in '84, '85, '88 and '89. He was recently inducted into the Indiana Football Hall of Fame.
Plummer was also inducted into the Indiana Wrestling Coaches Hall of Fame for his devotion to the sport that included working 25 years as an official, twice drawing prestigious assignments at the IHSAA state wrestling championships.
He spent 44 years in education, retiring in 2005. Plummer and his wife Marilyn spend much of their time in his hometown of Brazil and they winter in Florida. His children are Jay and Paige.
BOB RONK
Bob Ronk simply stands above the field. He's Howard County's all-time leader in wins in any sport with an 813-256 won-loss record, all accomplished in 31 seasons of American Legion baseball.
Ronk managed Post 6 for two stints: 1962-84 where his teams were 657-201 and '87-94 (156-55). He also served 10 years in an advisory capacity for Post 6. Ronk's Legion squads captured three state championships ('72, '76 and '82) and propelled scores of players to college programs and three (Tom Underwood, Pat Underwood and Dan Dumoulin) to the Major Leagues. In addition to winning the state title, Ronk's '82 team claimed the Great Lakes Regional title and advanced to the World Series in Boyertown, Pa.
He spent 50 years in local baseball, nine seasons managing a Little League team and 41 in the Legion program where he is remembered for his tireless fund-raising and generosity that often led him to spend his own money supporting the program.
Ronk was also largely responsible for Kokomo earning a bid to host the city's most prestigious sporting event ever, the 1985 American Legion Baseball World Series.
Ronk, who died in 2002, was married to Helen for 51 years. Their children are Bob Jr. and Dana.
E.P. SEVERNS
While E.P. Severns Jr. hasn't captured any championships on the field of play, his efforts behind the scene have made him every bit as important in this community as those who did.
President of Kokomo's Coca-Cola franchise since 1959, Severns is known simply as a man having a strong desire to help others in all walks of life, but especially through sports. Throughout his career, that uncommon generosity has been directed primarily at improving the lives of our youth. He has been a major contributor to local schools through multiple sponsorships, donations and gifts for boys and girls athletic teams, bands, cheerleading and college scholarships.
Severns sponsored the Coca-Cola team at UCT Little League in the mid 1950s and he still sponsors that team and several others a half-century later. He has also partnered with schools for many years to help fund athletic and educational programs. He and his father were instrumental in helping establish and sustain Carver Community Center on the city's north side. Among his many professional honors was being elected to the Beverage World Hall of Fame.