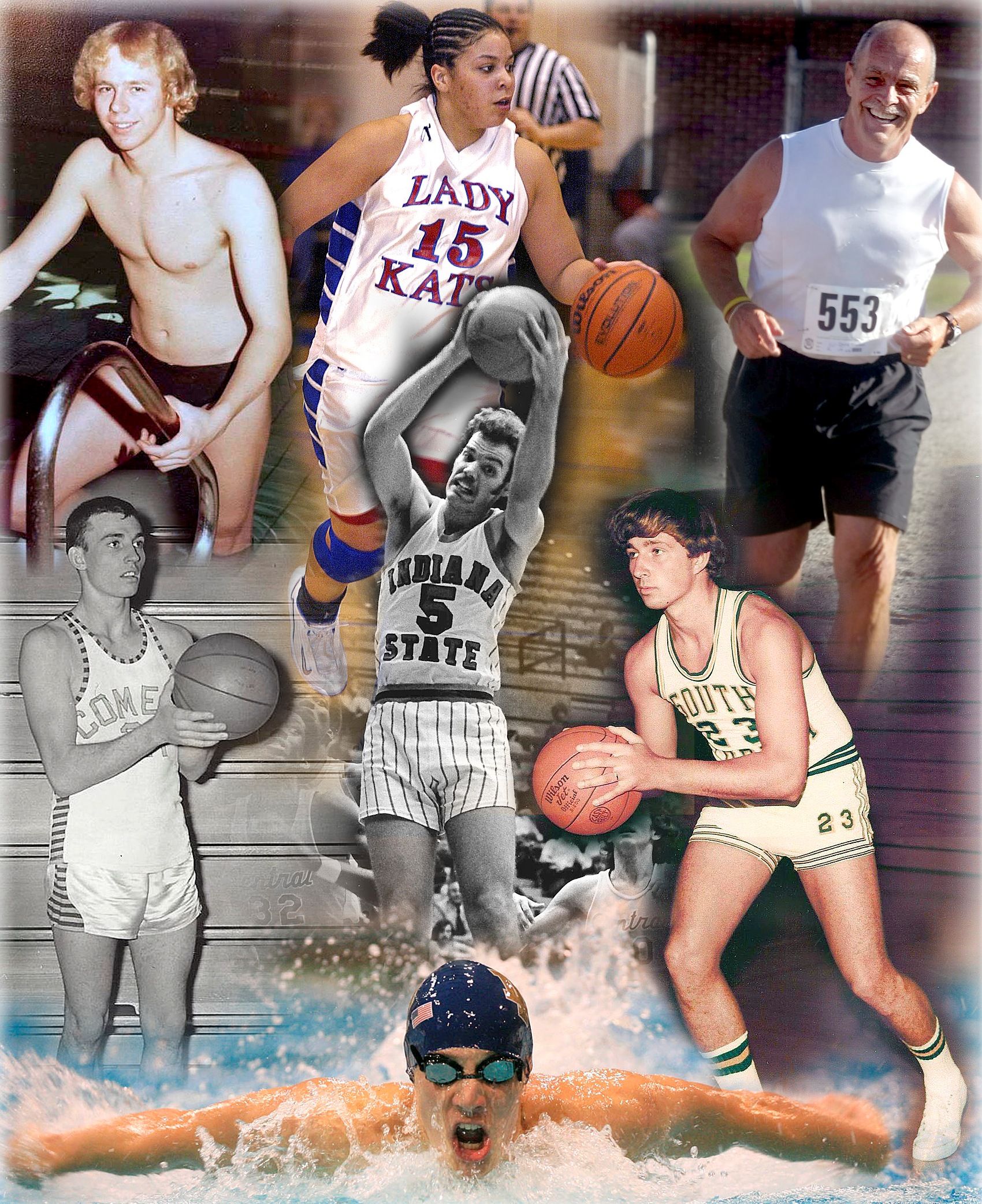 CLASS OF 2015

Al Fager
Al Fager excelled in the competitive swimming pools of the Midwest. During his illustrious career at Haworth High School, he was a two-time IHSAA state champion swimmer.
During his junior season in 1976-77, the lanky 6-foot-5 swimmer was the IHSAA state runner-up in the 100-yard and 500-yard freestyle events.
In his magical senior season of 1977-78, Fager set an IHSAA state finals record with a championship winning time of 1:41.52 in the 200-yard freestyle. He earned his second state title later in the day with a time of 4:38.07 in the 500 freestyle. According to Swimming World Magazine, Fager's 200 freestyle championship was the second fastest high school time in the United States during the '78 season.
For his high school efforts, Fager earned All-State and All-American honors. He also set Olympic Conference and IHSAA sectional meet records in the process.
Fager also excelled away from high school, winning AAU state championships in the 100- and 200-meter freestyle events. During his YMCA swim career, he placed fourth in the nation in the 500-yard freestyle.
The champion swimmer earned a scholarship to Purdue University, where he set freshman records in four events during the 1978-79 season.
David Granson
David Granson is known as the father of the Haynes Apperson Sports Festival and for his outstanding support of Howard County athletics.
In 1983, Granson helped organize a Howard County sports festival, which one year later became the first official Haynes Apperson Sports Festival. For the next 25 years, he served as the director of the popular event, spending countless hours ensuring sports enthusiasts were treated to a first-class event.
During the sports festival's early years, nearly 2,000 participants competed in up to 19 events. By the time Granson retired in 2008, the Haynes Apperson Sports Festival had grown to include more than 3,200 competitors from around the Midwest.
Under Granson's watch, the Haynes Apperson Sports Festival included typical sports staples like basketball, softball and track. But he was not afraid to look outside the box and include such events as disc golf, volksmarching, United States Canoe Association sanctioned races and long-distance bicycle rides.
Granson, a 1964 Kokomo High School graduate who helped his football team to a 9-1 record his senior year, is also one of Howard County's most respected businessmen. As the longtime owner of Engel Jewelers in downtown Kokomo, he has supported local athletics through sponsorships and other endeavors.
John Kiser
John Kiser was a three-sport athlete at Northwestern High School from 1966 through 1970, excelling in football, basketball and track.
On the gridiron, Kiser was a four-year letterman who earned All-Mid-Indiana Conference honors and served as team captain his senior season. For three seasons, he was a member of the Tigers track and field team. During his senior year, he set school records in the high hurdles and as a member of the one mile relay team.
But it was on the basketball court where Kiser excelled. During his junior season, he was the team's leading scorer, rebounder and Most Valuable Player. That season Kiser led Northwestern to the MIC championship with a 7-1 record and an 18-3 record overall. He had 14 double-doubles (scoring and rebounds) and averaged 18.8 points and 15.5 rebounds per game.
Kiser's senior season was even more productive as he averaged 29.7 points and 18.7 rebounds per game. He scored 30 or more points 10 times and had three games over 40 points that season. In a game against Hamilton Heights, he scored an astonishing 46 points while grabbing 36 rebounds (still a school rebounding record). Northwestern was 14-7 as a team and won the MIC championship that season. Kiser was again all-conference, all-sectional and all-area. He owns the single-season record for points (584) and rebounds (421) and departed with 1,246 points and 1,007 rebounds.
Kiser played college basketball for the University of South Florida and is credited with scoring the first-ever points for the new program. Kiser finished with 920 points, 406 rebounds and 196 assists during his collegiate career.
Geoff Shuck
Geoff Shuck was a 6-foot-7 two-sport star athlete for Haworth High School, excelling in baseball and basketball.
As a baseball player, he graduated as the Huskies' all-time leading home run hitter and guided the squad to the 1970 IHSAA Final Four after winning the school's first-ever semi-state title.
On the basketball court, he is a member of the Howard County 1,000 Point Club, finishing with 1,055 after his senior year of 1971. He is one of two Huskies in the club.
He led the Huskies to sectional and regional championships during his junior season in which he hit 171 field goals for a .606 shooting percentage. Haworth finished 18-3 that season and Shuck was named all-sectional, all-regional and all-semi-state.
As a senior, Shuck finished with a double-double average of 18 points and 17 rebounds per game.
After playing one season of basketball at Tennessee Tech, he transferred to Indiana State University where he was a two-year letterman and the Sycamores' Most Valuable Player his junior season. During his junior year, he averaged 14.8 points and 7.7 rebounds per game. His .551 shooting percentage is still 25th best in school history.
Shuck tore a retina his senior season and appeared in only 18 games where he averaged 13 points and 5.1 rebounds. He graduated with 589 points and 276 rebounds.
He played one season of professional basketball in Europe before retiring.
DeUnna Hendrix
DeUnna Hendrix was one of Howard County's outstanding high school basketball players and since has enjoyed similar success as the first local woman to be an NCAA Division I college head coach.
Hendrix began her coaching career with a four-year stint on the Jacksonville University staff. She then moved on to Division I Big South Conference program High Point University in 2011 and one year later was named head coach. In her second season the Lady Panthers compiled a 22-11 won-lost record, 16-4 in the Big South, and earned conference Coach of the Year honors. Both win totals were high marks in the program's Division I history. In 2014-15, High Point's 20 victories included decisions over William and Mary, Coastal Carolina, Winthrop, UNC Ashville and Gardner-Webb. In three seasons Hendrix's teams have compiled a 59-36 overall record, 41-17 in Big South play.
Hendrix played four seasons at the University of Richmond, sparking the Lady Spiders to 72 wins, 37 in Atlantic 10 Conference play. She was the team's co-captain her junior and senior seasons. Career highlights include scoring 13 points in a 98-88 victory over Florida; hitting a game-winning 3-point shot at Rhode Island; and registering a career-high 14 points in a win at Virginia. A four-year letter-winner, Hendrix played in 104 games, drawing 57 starts.
In four seasons at Kokomo High School, she led the Lady Kats to an 85-9 record that included four North Central Conference championships. Her senior season, 2002-03, the Kats became the school's first team to finish unbeaten (26-0), capturing the program's third IHSAA state championship. An Indiana All-Star, Hendrix scored 1,210 career points, fourth all-time highest among county girls.
Ted Brown Jr.
Ted Brown graduated from Western High School as its most decorated athlete in IHSAA state tournament competition before carving out a brilliant swimming career at the University of Notre Dame.
Brown ran roughshod over regular season, conference and sectional competition much of his career. He qualified for the IHSAA state championships all four years, making his presence known at state as a sophomore, taking sixth in the 200-yard freestyle and fifth in his signature event, the 500-yard freestyle. As a junior he moved closer to the top with a fourth place finish at 200 yards and a second spot at 500 yards. As a senior, he won it all, claiming state titles in the 200-yard individual medley and the 500 freestyle, winning the latter event by nearly five seconds. At the meet's conclusion, Brown was presented the IHSAA's Mental Attitude Award for outstanding athletic and academic achievements.
Brown's competition level stepped up considerably at Notre Dame, but still he was a top-level performer. Over four seasons, Brown captured 63 career victories while the Irish compiled an overall 39-14 won-lost record. In Big East meet competition, ND claimed two championships and two runners-up spots and Brown was a 10-time all-conference selection in four events.
A four-time Big East All-Academic selection, Brown left ND with an impressive list of awards. He was named outstanding freshman in 2004 and team MVP in 2007. Following his senior season, Brown claimed the Blanchard Award for performance, inspiration and leadership and the Knute Rockne Student Athlete Award.
He also received a prestigious Kanaley Award, presented to five ND seniors who have been most exemplary as students and leaders.
Richard Mugg
Richard "Dick" Mugg is unquestionably one of Howard County's most successful multi-sport athletes ever. Yet, it was four days in late February of 1956 that made his a household name in Greentown.
Mugg starred in three seasons of basketball, but it was in his senior year that he led the Eastern Comets to their first and only IHSAA boys sectional basketball championship. Before sellout crowds of 7,000-plus in Kokomo's Memorial Gymnasium, Mugg led the Comets to four sectional wins in as many days. Eastern beat Deer Creek (67-37), Western (72-63) and the state's 4th-ranked, North Central Conference champion Kokomo Wildkats (70-64) to earn a berth in the finals against Delphi.
Mugg shouldered the load in sectional play. The 6-foot forward was Eastern's leading scorer, averaging 21 points in the four games. It was his three-point play with 11 seconds remaining in the championship that completed the Comets' come-from-behind 49-48 victory over Delphi.
The Comets closed their season with what remains the school's best won-lost record ever, 22-4, and Mugg became Howard County's first 1,000-point career (1,070), averaging 18.8 points per game over his career.
Mugg excelled in track and field and was an outstanding pitcher on the baseball squad. He accepted a scholarship at Memphis State University (now Memphis University) to play basketball and baseball. After playing basketball for two seasons, he gave up hoops for fulltime duty as a pitcher.
The left-hander lettered all four seasons as a member of the starting rotation and pitched against some of the NCAA's top Division I squads. He was the Tigers' premier pitcher as a senior, leading the team in wins while turning in an impressive 2.02 earned run average.