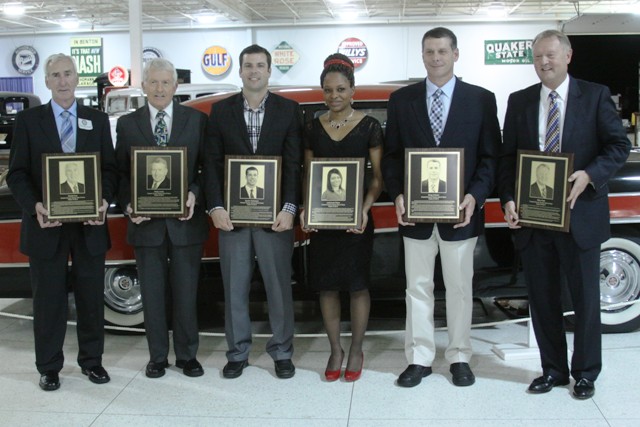 CLASS OF 2014
GREG ACHORS
Swimming for Kokomo's Haworth High School, Greg Achors placed as either state champion or runner-up in eight of the nine events in which he participated at the IHSAA State Swimming Championships from 1980-82. Achors' three gold medals in '82 were instrumental in Haworth winning its only IHSAA team state championship in school history.
In '82, Achors captured individual IHSAA titles in the 100 yard butterfly and the 100 breast stroke where he established a meet record. He swam a leg on the Huskies' state championship 200 medley relay that also established a record, breaking Haworth's state meet mark from '81 by nearly two seconds. As a senior, he was a three-time All-American after finishing the season with top-10 times nationally in the 100 butterfly, 100 breast stroke and 200 IM.
As a junior, Achors led the Huskies to a team runner-up finish at the IHSAA state championships. He swam on the victorious record-setting 200 medley relay and took second place finishes in the 200 individual medley and 400 freestyle relay. As a sophomore at the state meet, Achors earned second place finishes in the 200 IM and 200 medley relay.
Achors then lettered two seasons at the University of Tennessee where he finished sixth in the 100 butterfly and seventh in the 100 breast stroke at the 1983 Southeastern Conference Championships. That same year, he swam a leg on the Volunteers' 400 medley relay that claimed 10th place at the NCAA championships.
Achors is a retired U.S. Navy pilot and currently flies for FedEx Express. He and his wife Christi live in Fleming Island, FL. They have two sons, Kyle and Konner.
HAROLD COX
Harold Cox was a star performer at the onset of golden eras of basketball at Kokomo High School and the University of Evansville and later became the first boys varsity basketball coach at Kokomo's Haworth High School.
The 5-foot-11 guard played three seasons (1952-54) at Kokomo, where the Kats fashioned a 60-20 won-lost record, including a 26-8 mark in North Central Conference play. As a senior, Cox captured the NCC scoring title despite playing with a cast on a broken wrist for eight weeks. Named as an alternate to the 10-member Indiana All-Star team, Cox graduated as the Kats' all-time leading scorer.
Cox continued his success at Evansville where he helped lay the groundwork for one of the country's top programs. Over three seasons (1957-59) as a starting guard, Cox spurred the Purple Aces to a 62-18 record. Included among the notable wins was an 83-76 decision over Coach John Wooden's 13th-ranked UCLA Bruins. That '58 Evansville squad finished 23-4, taking third place in the NCAA College Division National Championship. One season later, the Purple Aces (21-6) captured the school's first national title with an 83-67 win over Missouri State.
Primarily a playmaker and standout defender, Cox also displayed his offensive prowess by scoring 970 career points. He was named to the Evansville Athletics Hall of Fame in 1983.
Cox coached varsity basketball for 17 seasons at Portage, Haworth and Castle high schools. His most noted success came from 1970-72 at Haworth when the Huskies compiled a 58-15 record.
A retired teacher living in Fishers, Cox is a drivers education instructor. He is the father of Michael, Kimber and Julie. He has five grandchildren and one great grandchild.
LASHONDA DAVIS
Considered one of Kokomo High School's outstanding track and field athletes, Lashonda Davis continued her career at Miami of Ohio and graduated as one of its all-time greats, capturing six Mid-American Conference championships.
Davis won MAC titles in each of the four years she competed, 2004-07. Twice she claimed first place finishes in the indoor 60-meter dash (:7.37) and (:7.48) and twice she took long jump championships (19-9 ¾ indoor) and (21-0 outdoor). She also won the outdoor 100 meter dash (:11.85) and was a member of Miami's victorious outdoor 4x100 relay (:45.99).
Seven years after completing her eligibility, Davis still owns three records at Miami, the indoor 60 meter dash, and indoor and outdoor long jump. While at Miami, she dominated the long jump to the degree that she still owns the top 10 performances in school history in both indoor and outdoor competition.
Davis was twice named MAC first-team all-conference and was also a two-time NCAA championship qualifier. She was a MAC All-Academic selection and honored as the university's Female Athlete of the Year in 2005.
Davis was a three-time MVP of Kokomo's track team. As a senior, she won the 100, 200 and long jump at the North Central Conference Championships and she captured the same events at IHSAA sectional and regional events, in addition to running a leg on the 400 relay which took first in both meets. At state, she finished sixth in long jump and seventh in the 100.
Davis resides in Kokomo and is employed by PNC Bank as a teller supervisor. She is the mother of two children, a daughter Ja'Nyiah Rogers and a son, JeShaun Rogers.
GREG LUCAS
A graduate of Kokomo High School and Butler University, Greg Lucas is one of the nation's most versatile and respected radio-TV sports personalities. Lucas worked over 3,000 play-by-play events in Major League Baseball, the National Basketball Association, and college football, basketball, baseball, swimming, tennis, volleyball, and track and field.
Lucas was an NBA radio and television play-by-play announcer for 13 seasons with the San Antonio Spurs, Houston Rockets, Indiana Pacers, and Dallas Mavericks, and for 32 seasons with MLB's Texas Rangers and Houston Astros. He also covered multiple sporting events for the Southwest and Big 12 conferences. His feature on Jerry LeVias, the first African-American scholarship athlete of the Southwest Conference, earned him an Emmy nomination. Lucas also operated sports radio talk shows in Terre Haute, Honolulu, Peoria, Buffalo, and San Antonio.
Among the memorable events in Lucas' 45-year broadcasting career was calling Hall of Fame pitcher Nolan Ryan's final outing and Kenny Rogers' 1994 perfect game against the California Angels. He broadcast the last game played at Arlington (TX) Stadium and he was behind the microphone for opening day of The Ballpark in Arlington that followed. His words closed the Houston Astrodome and later opened the Astros' new venue, Minute Maid Park. Lucas was also a sideline reporter for two additional MLB no-hitters.
Athletically, Lucas' strength was as a baseball player at Kokomo High School, with the Post 6 American Legion team, and the Kokomo Highlanders of the National Baseball Congress. He also played two seasons at Butler University under legendary coach Tony Hinkle.
Lucas, who retired in 2012, and his wife Yong live in Houston. They have one son, Dr. Alexander Lucas.
AUSTIN PARKINSON
Austin Parkinson was a four-year basketball starter at Northwestern High School, leading the Tigers to an impressive 77-17 won-lost record. The 6-foot-1, point guard started in each of those 94 games that produced three Howard County Tournament titles along with sectional (2) and regional (1) crowns. He departed from NW as its career leader in points (1,667, 17.7 per game), assists (678, 7.2) and steals (382, 4.0).
As Howard County's No. 2 career boys leading scorer, behind Kokomo's Jim "Goose" Ligon, he later became Northwestern's first player named to the Indiana All-Star team.
Parkinson played four seasons at Purdue, appearing in 120 of 124 games and averaged just over 15 minutes court time per game. He led the Big Ten in assist-to-turnover ratio in each of his last three seasons. Following graduation, Parkinson served on the Purdue men's coaching staff before joining the IUPUI men's staff for two seasons.
He was named IUPUI's women's head coach just days before the 2010-11 season opener. He took over a program that had struggled in past years, winning just three games in 2009-10. His first squad won four games, then in 2011-12, Parkinson's group improved to 13-19. In 2012-13, IUPUI had its break-through season, finishing 20-12. A berth in the Women's 2013 NIT was a first for the program and Parkinson was named Summit League Coach of the Year.
IUPUI's success under Parkinson continued in 2013-14 as the Lady Jaguars set a record for wins with a 23-10 finish. The team earned a berth in the Women's NIT and there posted the program's first Division I post-season victory ever.
In September 2014, Parkinson married Whittney Beechy of Kokomo.
MIKE PLATT
Mike Platt was one of the most durable and prolific two-sport athletes ever at Kokomo's Haworth High School and the University of Evansville.
Platt started in each of Haworth's 70 basketball games (1971-73), scoring 962 points (13.7) and graduating as the career leader in steals (153) and assists (200). The Huskies compiled a 44-26 won-lost record over those three years, winning the IHSAA Sectional in '72.
Platt was a three-year starter on Haworth baseball teams that finished 63-21 overall, winning the first two Olympic Conference championships ever contested, along with sectional (2) and regional (1) titles. Platt was a two-time all-conference selection. He batted .341 as a senior on a team that finished 24-7, claiming conference and sectional championships. Platt was also a starter for Kokomo's Post 6 American Legion squad that captured the 1972 state championship.
At Evansville, Platt was a three-year starter for the basketball team, playing in 109 of 110 games over four years while the Purple Aces compiled a 67-43 record. He was a two-time all-Indiana Collegiate Conference selection and graduated as the program's No. 13 career leading scorer with 1,135 points. He was team MVP as a senior. A solid point guard, Platt led his team in assists in '75, '76 and '77.
Platt had an equally outstanding baseball career at Evansville as a four-year starter at second base. He played on ICC championship teams of '75 and '76, was a three-time all-conference selection and team MVP as a senior.
Platt lives in Kokomo and is a partner in the Jim Kitchell Insurance Agency. He has two daughters, Hillery and Natalie.