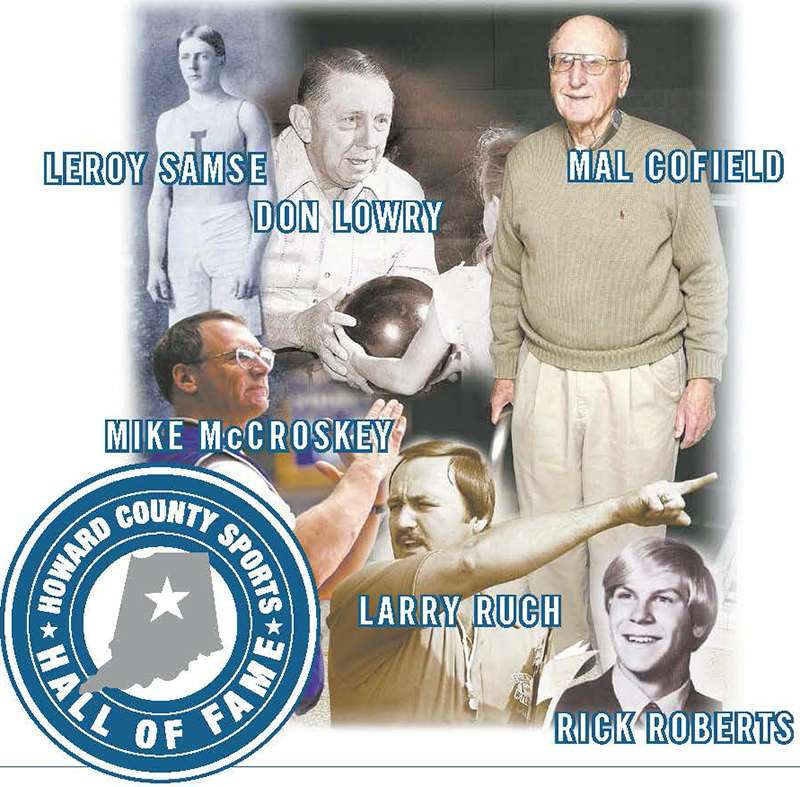 MIKE McCROSKEY
Mike McCroskey is responsible for providing the foundation for one of the nation's premier girls high school basketball programs.
McCroskey was named girls coach at Kokomo High School in 1984. His first squad finished 18-6, winning sectional and regional titles, but more importantly laying the groundwork for the most successful period of any Howard County sports program ever.
From 1991-94, McCroskey's Lady Kats compiled a dazzling 117-10 record, winning two single class state championships and claiming a state runner-up title as well. He is one of only a few coaches in Howard County history to have won multiple state titles.
A 1968 KHS graduate, McCroskey coached at Kokomo's Haworth High four seasons prior to taking the Kokomo varsity job. After leaving Kokomo, he continued coaching at Northwestern and Carroll high schools. His career won-lost record over 23 seasons is 359-164.
He was named coach of the year in 1992 and 1993 by the Indiana Coaches of Girls Sports Association and by the Indiana Basketball Coaches Association.
He coached in the Kodak All-American game in 1993 and in 1994 he was selected to direct the Indiana All-Stars in the annual Indiana-Kentucky Basketball Series.
McCroskey teaches social studies at Kokomo High School and coaches the Carroll High girls varsity basketball squad.
LEROY SAMSE
Among the hundreds of outstanding Howard County athletes over the past century-plus, Leroy Samse stands in a class of his own as our only Olympic Games participant and medalist.
A 1902 Kokomo High School graduate, Samse was known for his gymnastics, as well as his track and field talents.It was at Indiana University where his skills were honed. He once held IU's high jump record, but especially excelled in pole vault. He earned an invitation to the 1904 Olympic Games in St. Louis, where, jumping with a bamboo pole, he won the silver medal with an effort of 11 feet, 9 inches.
On June 2, 1906, Samse competed in the Western Athletic (now Big Ten Conference) Championships at Northwestern University. There, he tied the world record of Frenchman Fernand Gonder (12-3 1/4), before later in the competition breaking the world record with a leap of 12-4 7/8. Samse became IU's first conference champion that day after having been the school's first Olympian two years earlier.
Samse's accomplishments are even more impressive considering he competed with sight in only one eye after a childhood accident. Samse died in California in 1956 after a career in education.
LARRY RUCH
Larry Ruch captured the IHSAA state pole vault championship for Warsaw High School in 1959, signaling the start of an outstanding career in athletics — virtually all of it in Howard County.
He arrived at Kokomo High School in 1963 after graduating from Purdue University and quickly began making his mark coaching track and football. He was Kokomo's boys track coach from 1969-97. During those 29 seasons, his teams captured 21 sectional, five regional and 13 NCC championships. His team was state champion in 1994 and state runner-up in 1995. Overall, he coached athletes who won seven state titles.
Ruch didn't limit his coaching skills to track and field.In 1982, he took charge of a Wildkat football program that had managed just three winning seasons in its previous 10 years. He responded by turning the Kats into winners eight of the next nine seasons. He retired in 1990 with a record of 62-29 (45-24 in NCC play), a winning percentage of .681 which ranks No. 1 among all KHS coaches from 1923-2006.
Ruch has retired from teaching and lives at Lake Manitou in Rochester.
MAL COFIELD
Mal Cofield arrived at the Kokomo YMCA in 1951 with no experience as a swimmer or swimming instructor. Within six years, the self-taught coach helped produce the Y's first national champion and two years later, Cofield started high school swimming in Howard County.
Cofield taught hundreds of Howard County children to swim, but it was his success as a Y instructor and later as a coach at Kokomo and Haworth high schools for which he is perhaps remembered best.
Proof of Cofield's success can be found among IHSAA records that show from 1959-81, he piloted 14 swimmers to state titles in 18 events. His Kokomo squad won a state championship in 1969 after finishing as runner-up in 1965 and 1968. His Haworth team, stocked with juniors, was state runner-up in 1981, then one season after Cofield retired, that same group of swimmers spearheaded the city school's march to what would be its only team state championship.
A Rising Sun, Ind. native and Little All-American football player at Taylor University, Cofield was inducted into the charter class of the Indiana Swimming and Diving Hall of Fame in 2007. He died in 2006.
RICK ROBERTS
Rick Roberts is Howard County's only athlete to win IHSAA state championships in each of his four years in high school and no swimmer was more successful at the prep level than the Kokomo High School standout.
Roberts was a member of Kokomo's 400 freestyle relay team that won the state championship in 1968 and from there, he took off on his own.
He claimed IHSAA 400 freestyle titles in 1969, 1970 and 1971 and won the 200 freestyle finals in 1970 and 1971. Upon his graduation, his six state gold medals rank No. 2 in Howard County history only to legendary KHS track and field star Russell "Rut" Walter's seven titles from 1923-25.
Roberts continued his career at Illinois State University, where he became the school's first swimmer to make a national cut-off time for the NCAA championships while setting four ISU freestyle records. Twice he won the school's most-valuable swimmer award.
In 2007, Roberts was inducted into the charter class of the Indiana Swimming and Diving Hall of Fame at Indianapolis, along with his longtime Kokomo coach Mal Cofield.
Roberts resides in Austin, Texas.
DON LOWRY
Perhaps no Howard County native has made such impact at local and national levels as Don Lowry.
An outstanding bowler, who from 1947-51 held the city series record of 759, Lowry took over ownership of Playbowl Lanes, later opening his own facility.
Lowry is best known for his passion and dedication to youth bowling. On his plaque at the National Bowling Hall of Fame, Lowry is called the "Father of Youth Bowling," for his tireless efforts on behalf of kids. He was largely responsible for the merging of two youth bowling groups that resulted in a single organization 500,000 strong.
Lowry has received virtually every major bowling award nationally. He was a member of the Bowling Proprietors Association of America board of directors, earning the association's top prizes — the Victor Lerner Memorial Award and the President's Award.
In 2008, Lowry received the United States Bowling Congress Joyce Deitch Trailblazer Award that recognizes important contributions to the sport by motivators, visionaries, leaders and inventors.
Lowry was elected to the Indiana Bowling Hall of Fame and is a charter member of the Kokomo Bowling Association Hall of Fame. He died in 1998 at age 86.