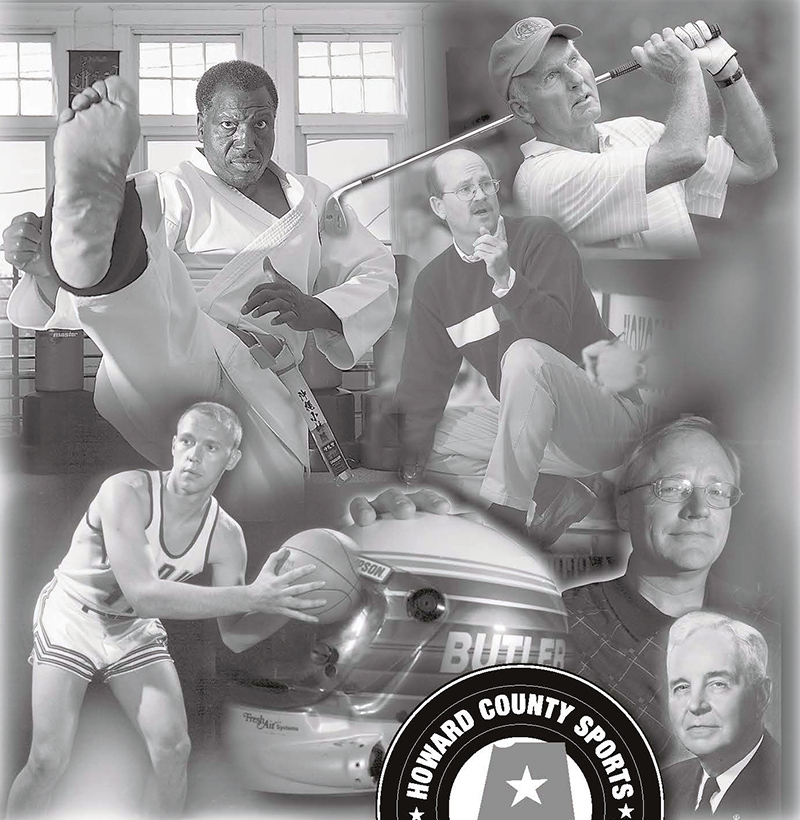 Chet Hill
Chet Hill is Howard County's most celebrated coach in sheer number of state championships and was also a highly-regarded administrator.
After coaching Thorntown to the 1915 boys basketball state championship, Hill came to Kokomo High School in 1921 where from 1924-37, his track teams won seven state championships.
He started the modern day KHS football program in 1923, producing a 70-40-9 record in 14 seasons. He also coached the boys basketball team for seven seasons, taking the 1925 squad to the final game of the state tournament.
Hill established the famed Kokomo Relays in 1925 and one year later was the driving force behind the formation of the North Central Conference, which has proven to be one of the state's elite leagues.
Athletic Director at KHS from 1945-57, Hill was also voted into the Indiana basketball (1965), track (1976) and football (1978) halls of fame.
Ron Hughes
While one of the outstanding all-around athletes ever at Kokomo High, Ron Hughes will long be remembered for hitting the most memorable free throws in school history.
On March 18, 1961, Hughes hit two free throws with :03 left in overtime of the state championship game to break a tie and lift the Kats to a 68-66 victory over Indianapolis Manual. Hughes scored a team-high 20 points as Kokomo won its first state basketball championship before 14,943 fans at Butler Fieldhouse.
Hughes played three seasons for Coach Joe Platt, leading the Kats to a 74-10 record. Over his last two seasons, he averaged nearly 20 points a game and closed his career with 1,134 points and a berth on the Indiana All-Star team.
Hughes also excelled in baseball and was a two-year starting quarterback for the football team. As a senior, he completed 57 percent of his passes and threw for 1,404 yards on a team that finished 8-1.
Eddie Bethea
A native of Wilmington, N.C., Eddie Bethea came to Howard County when stationed at Grissom Air Force Base in 1971. Wilmington's loss was the Kokomo area's gain.
Bethea founded the Kokomo School of Self Defense in 1976 and through the years has had contact with as many as 10,000 students. Bethea is proud not only in teaching those students how to defend themselves and in some cases win state, national and world championships, but how to live their lives as responsible adults and good citizens.
Bethea is also a world-renowned competitor. He is the only person in the country who has won World Fighting championships in three decades — the last in 2003 at age 60.
A winner of national and international competitions, Bethea has been inducted into three martial arts halls of fame.
Steve Butler
In a community rich in auto racing tradition, Steve Butler stands atop the list of outstanding race drivers.
A native of Amarillo, Texas who moved to Kokomo in 1970, Butler began his sprint car career in 1981 and before retiring at age 37 in 1993, he was the winner of six United States Auto Club championships.
Butler won the USAC National Sprint Car Series championships in 1986, '87, '88 and '90 and captured the prestigious Silver Crown Series in '88 and '92. The winner of over 50 sprint car events, Butler is the only USAC driver ever to win both wing and non-winged racing divisions.
A veteran of some 700 career races, Butler also ran at speeds of 215 mph while attempting to qualify for the 1989 Indianapolis 500. A crash in practice kept him out of the starting field.
Jerry Jackson
Jerry Jackson is considered Howard County's most decorated and successful amateur golfer ever, having won multiple championships at the local, state and national levels.
In 1958, he was a member of Kokomo High's first boys golf state championship squad. He then took his talents to Purdue where he played on teams that finished second, first and sixth in NCAA Championships and first, fourth and second in Big Ten championships. In 1962, he was named a collegiate All-American.
He then returned to Kokomo where he continued a sterling career that included shooting 62s at the Kokomo Country Club and American Legion courses.
A member of the Indiana Golf Hall of Fame, Jackson has won three Indiana Senior Amateur championships, an Indiana Junior Amateur title, five Howard County Tournament crowns and 17 KCC championships.
Charlie Hall
Charlie Hall will be remembered at Kokomo High School as one of the Wildkat's very finest dual-role performers as player and coach.
In just two basketball seasons, Hall scored 1,163 points, twice winning North Central Conference scoring championships.
As a coach at Kokomo High, Hall excelled in multiple sports. As either head coach or assistant, he was involved in three state championships and two state runner-up titles in five different programs — boys tennis, boys golf and baseball and boys and girls basketball.
As varsity tennis coach for 13 seasons, Hall's teams were 256-64 with six NCC championships and a state runner-up finish in 1998. His success as girls varsity basketball coach is unprecedented. In seven seasons, his Wildkats amassed a 149-19 won-lost record that included a 47-1 NCC mark and seven conference titles; two undefeated regular seasons and the 2003 state championship.